Team Member Roles & Permissions
Overview
Team Member Roles allow for better control and delegation over how Team Members use IMS. The new Roles functionality is available for Super Admin or Admin Team Members only. If you need help setting up a Super Admin Team Member, please email support@imscre.com.
Step-By-Step
1. Select your Profile in the top right of your screen and navigate to Admin Settings > Team Members. From this page, you are able to add a new Team Member or make any edits to existing Team Member profiles (with the exception of their email address which the individual Team Member will need to update if necessary).
2. Select the Team Member you want to assign a role to. By default, all existing Team Members will be assigned the Admin role. Once on the Team Member profile page, select the Roles tab.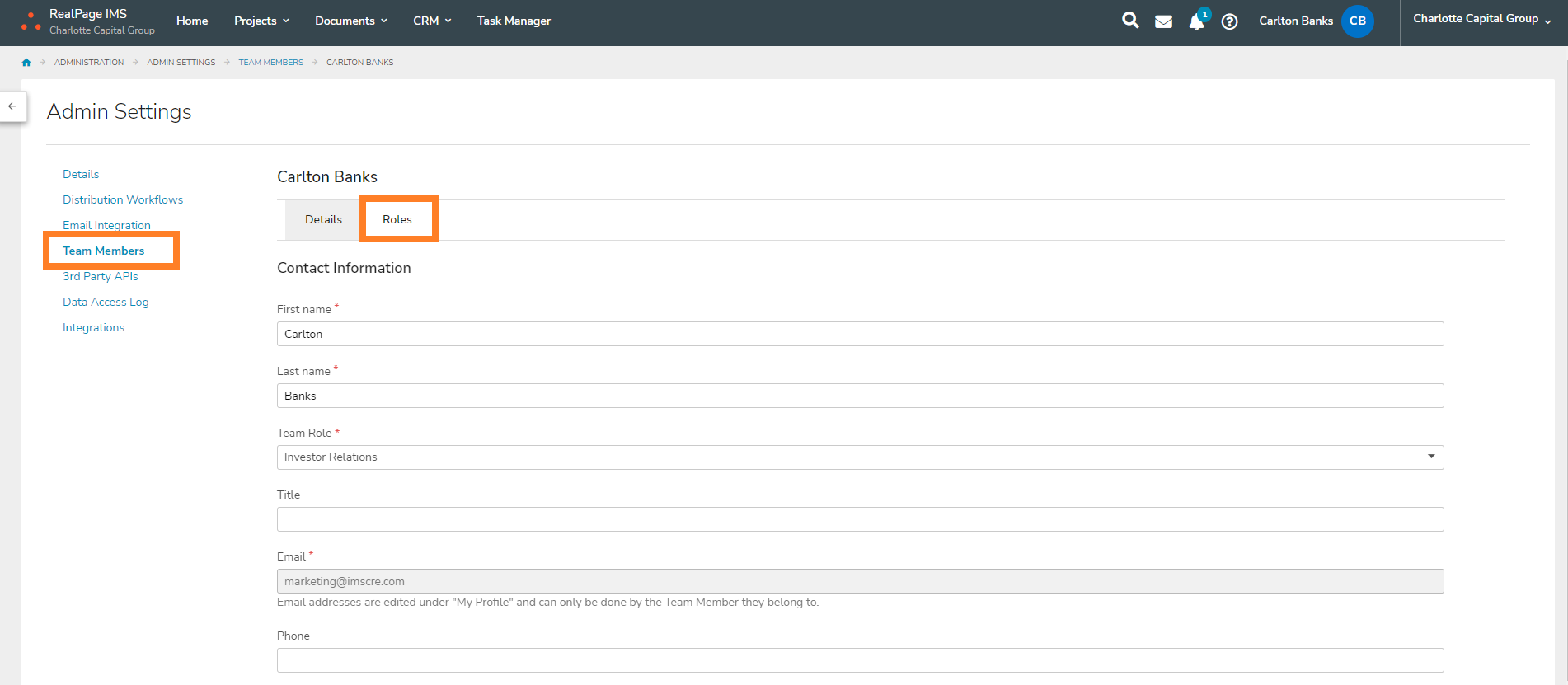 3. Once inside the Roles tab, select which role you want that Team Member to have. Choose from Super Admin, Admin, CRM Only, KPI Only, or Project Only. Keep in mind that at least one Team Member will need to maintain a Super Admin role.

By default, those with Super Admin roles will also have Sensitive Data Access (SDA). If any other Team Members need Sensitive Data Access, Super Admin roles can enable SDA for an individual user.
If any individual team members need to access the KPI dashboards in addition to their role, you can toggle KPI access on as well. Keep in mind, that if the team member only needs access to KPI then you will want to use the KPI-only role.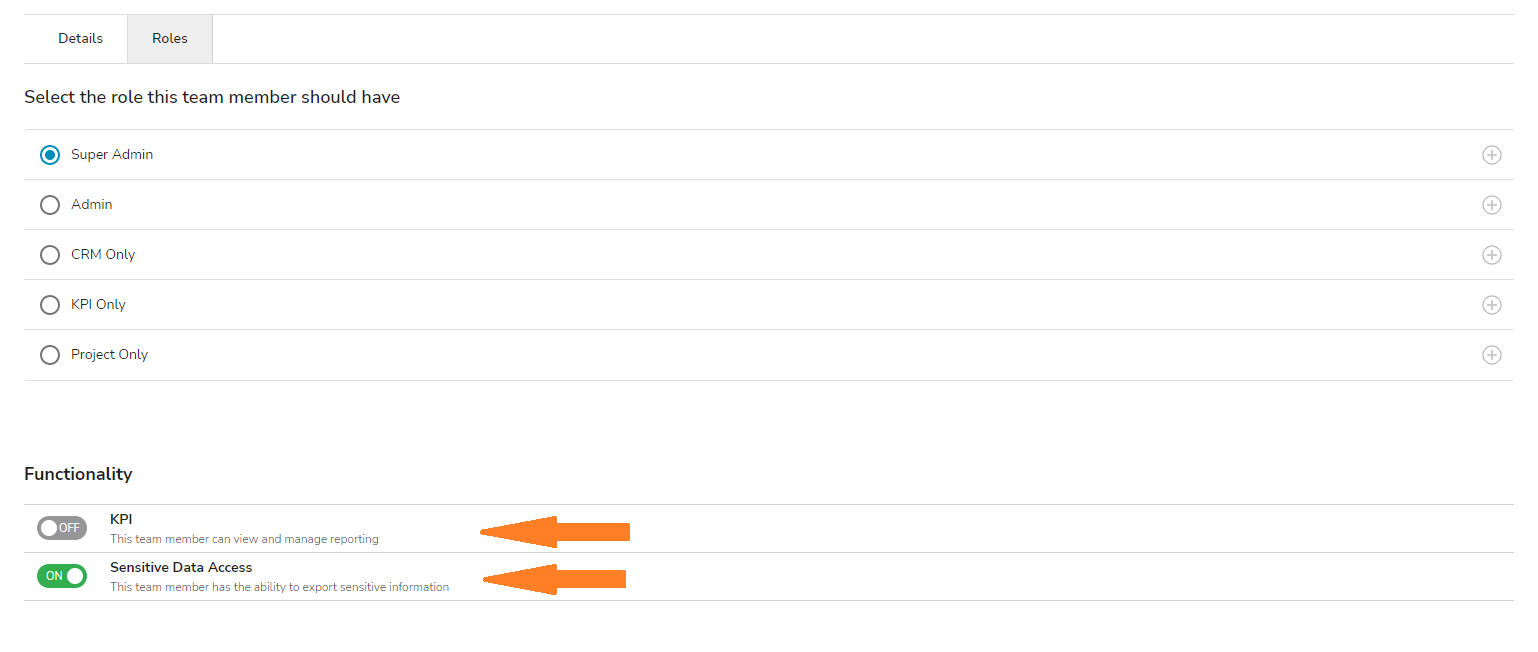 Role Functions
By selecting the (+) sign next to each role, you will see an expanded view of what each role has access to in IMS and what areas they do not have access to.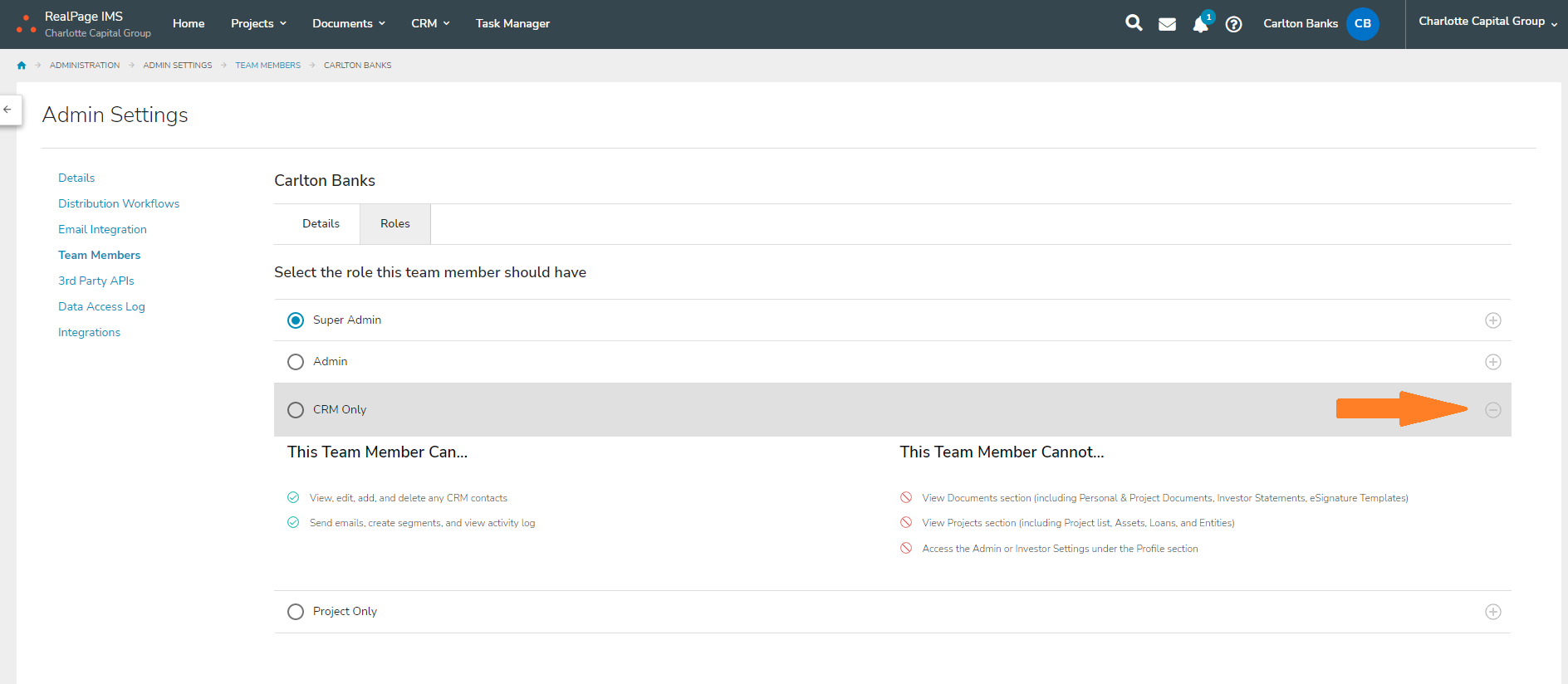 Super Admin
Admin
CRM Only
Project Only
CRM (Contacts, Emails, Segments)
Full Access
Full Access
Full Access
Can view limited investor information
Projects/Entities/Loans
Full Access
Full Access
No Access
Full Access
Personal/Project Documents
Full Access
Full Access
Can view or upload investor documents from the CRM and view personal documents shared by other Team Members. Can also

download and upload documents within the 'My Documents' section.

Can view personal documents shared by other Team Members. Can also

download and upload documents within the 'My Documents' section.

Investor Statements
Full Access
Full Access
No Access
No Access
eSignature Documents
Full Access
Full Access
Can view completed eSignature documents from the CRM
No Access
Admin Settings
Full Access
Full Access
No Access
No Access
Investor Settings
Full Access
Full Access
No Access
No Access
Sensitive Data Access
Full Access
Can be enabled
Can be enabled
Can be enabled
Import Data
Full Access
Full Access
No Access
Full Access
Investor Portal
Full Access
Full Access
No Access
Can View Assigned Projects Only