Sponsor Metrics Dashboard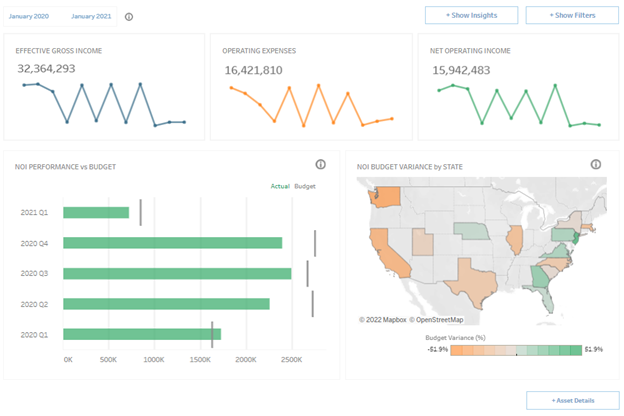 The Sponsor Dashboard is the landing page for your Sponsor Metrics, serving as the jump-off point to access all other dashboards. Overarching metrics about the portfolio's financials are located at the top with charts of values by month as per the Date Range selected in the upper left-hand corner:

This date can be changed by simply clicking on the month and entering the desired date.
For a closer look at the data set behind a metric for a specific month, simply hover over the plot point for a particular month and a summary window will appear: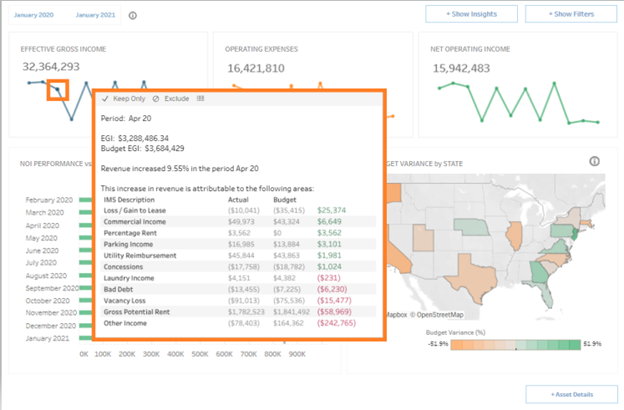 Below these are the NOI Performance vs Budget chart and Map view illustrating NOI Budget Variance by State. Within the NOI chart, the user can hover over the date header and select either + or -, allowing the fields to be aggregated monthly, quarterly, or annually; the entire dashboard will adjust to the selection.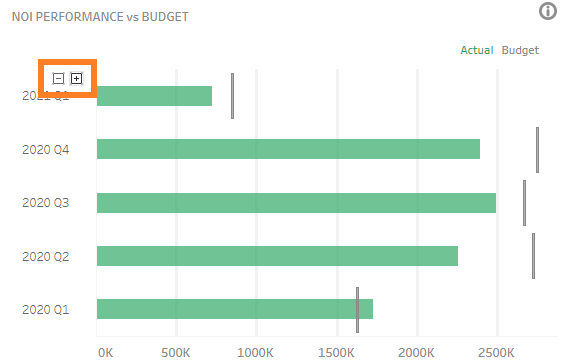 At the bottom of the view, you can select to view or hide the Asset Details, which outlines the property data by each individual property showing various metrics including NOI Variance and Variance Percentage: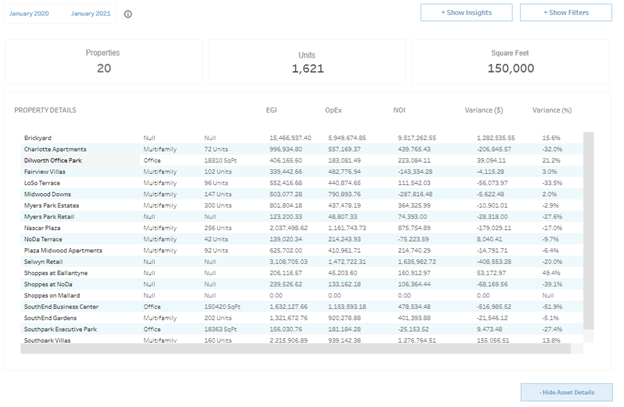 Selecting the "Show Insights" button in the upper right of the dashboard will provide you with a high-level visual into the best and worst performing properties: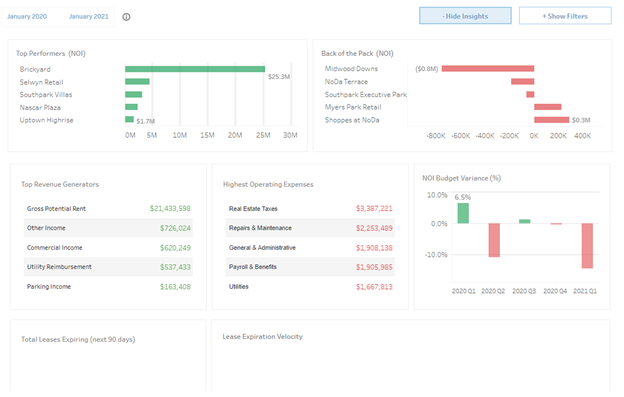 Filters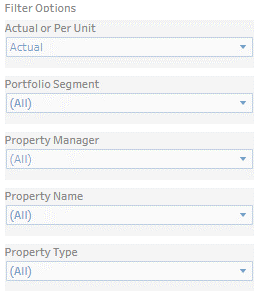 Using the Filter Options menu in the upper-right of the dashboard, the user can specify exactly what information they want to be displayed. Filters include:
Actual or Per Unit - A single select drop-down that changes the dashboard values to populate as actual or as the calculation of the actual divided by the number of units or square feet per property. The default view is actual.
Portfolio Segment - A multi-select drop-down with the property segments.
Property Manager - A multi-select drop-down with the name of each property Manager.
Property Name - A multi-select drop-down with the name of each property.
Property Type - A multi-select drop-down with the name of each property type.
Navigation
To move around the application to the different dashboards there is a Jump to View drop-down menu in the top right corner of IMS that takes you directly to each dashboard.