Countersigning a Document
Countersignatures can be used on documents processed through eSignatures. Once all countersignatures have been added by the responsible parties, documents will be marked as complete.
When setting up a countersigner, You can add up to 3 Team Members for each offering, as reflected on your eSignature Template. If you would like to learn how to add a countersigner to an eSignature template, please review this article: Add a Countersigner
To Countersign a Document
1. The countersigner will receive an email in their inbox similar to the image below.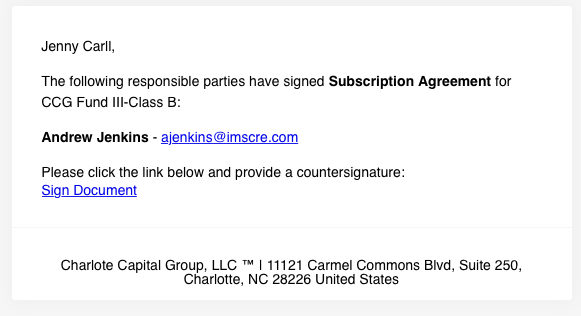 2. When the link is clicked, the countersigner will be automatically redirected to the document within IMS and can begin signing the necessary fields.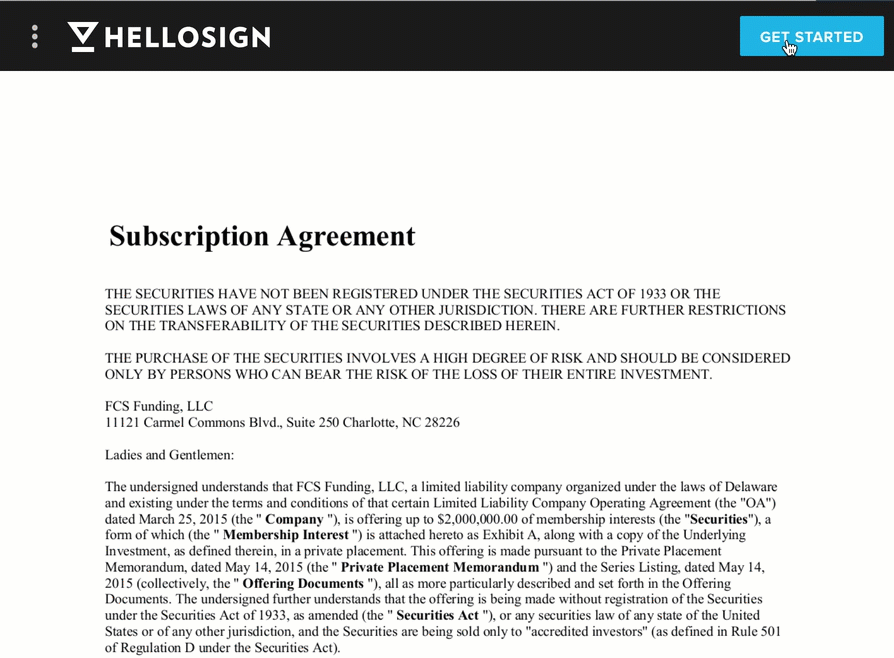 3. A green box will indicate where your signature is required. If other actions are required (i.e. initials or checkbox), you will be prompted with the appropriate action and a green box.
4. You'll be prompted, once you've completed all of your action items, to click Continue in a blue box at the top right.
5. On the next screen, you will have to confirm that you "Agree" to sign the document. If you agree to the terms, your portion of the document will be complete and you will be directed to a final page.
6. If there are multiple countersigners, a copy will be emailed to the appropriate parties to countersign. Once all parties have signed, a copy will be emailed and once it has finished processing, it will be available in the Sales Offering.
Pro-Tip: If you are the designated countersigner, you may also countersign from the Cap Table by selecting the Document Status icon. Once the document is ready for countersignatures, and you've selected this icon, you will see an option that allows you to countersign directly from the Cap Table, as shown below. This is convenient when countersigning for multiple investors.