Overview
Email Segmentation is a method that Sponsors can use to send highly targeted emails to investors or prospect groups by dividing contacts into smaller groups, or "segments." Within our CRM feature, create segments of individuals based on the set criteria of your choosing.
Best Practices and Benefits
This tool is designed to create specificity within your CRM database. We recommend using this feature when communication is needed within a particular subset of your contact list; reach an exclusive group rather than creating a single message for the masses.
How To Use It
1. Navigate to the CRM tab and select the Segments subcategory. Then select Add Segment in the top right corner:

2. Begin creating your Segment by writing a Name and Description. Next, navigate to the behavior conditions and select various search categories that pertain to the segment you'd like to create. Here, you can add conditions just as you would for our Contacts Advanced Search feature from the CRM.

* Note: You can update the individuals in a segment group at any point, but be aware the system will refresh the group overnight, so the changes will not be available until the following day. Any changes made to the segment will only affect future emails - it will not change recipients of previous emails sent.
3. As you begin selecting the conditions for the system to gather for the segment, the user count on the right-hand column will begin populating. Review the users in the grouping and 'exclude' any contacts if necessary. Once you are happy with the segment, select Save or Save & Create Campaign to begin an email campaign.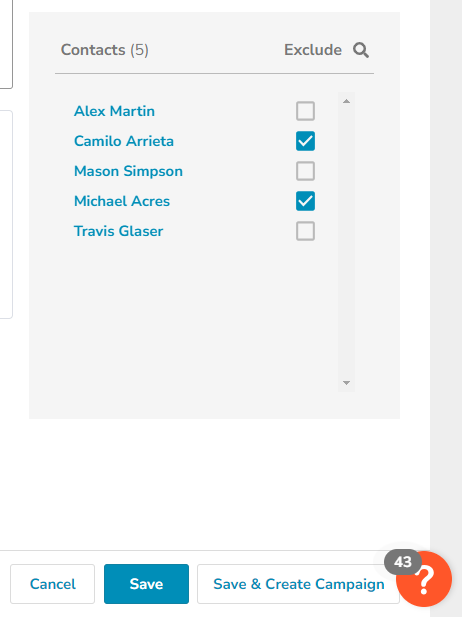 4. Utilize Segments for email campaigns as a marketing tool for new offerings, project check-ins, and updates, or use it to continue building relationships with certain investor subgroups in your CRM.
References & More Information
On the Segment landing page, there is a table consisting of the following data categories:
Name - Customized based on your naming convention
Description - Optional internal description that you may add to your segment and edit at any time
User Count - Number will automatically reflect current contacts in the segment
Campaign - Identify how many emails have been sent to this user segment
Last Modified - Track the most recent changes to the segment
Segments will identify contacts based on "All Profile Types" or "Individual Responsible Parties" in your Advanced Search to find the desired list of contacts:
All Profile Types: yield all applicable contacts within your Advanced Search
Individual Responsible Parties: yield all individual contacts that are responsible parties for contacts that apply within the Advanced Search parameters. This includes any individual contact that is a direct connection as a responsible party to another contact.