Signer Types: General vs. Specific
Summary
When creating an eSignature template, you will see radio buttons for "General" and "Specific" Signer Types. This selection will determine the Signer Type variables that are required to create the template, in addition to potential Secondary Signer and Countersigner additions to the template. Please note that if you are planning to utilize more than one eSignature template to make up your signing package, all templates must use the same Signer Type.
Example: You have a W-9, Subscription Agreement and Investor Questionnaire that make up your signing package. If the W-9 is coded with the Specific Signer Type, your Subscription Agreement and Investor Questionnaire must also use the Specific Signer Type.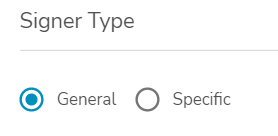 It's important to note that the General Signer Type is ideal for documents where investors need to sign in the same location, whereas the Specific Signer Type should be used when there are various investor profile types that need to sign in profile-specific locations within the document.

Making Your Selection
Selecting the General radio button will populate "Sender," "Investor" and "Joint Account Secondary" (plus any additional Secondary Signers and Countersigners) for fields: Signature, Initials, Date Signed, Textbox, Checkbox, Dropdown and Radio Group. Please note that we do not recommend using any of the Auto-fill Fields other than Date Signed as too many can impact the document loading process.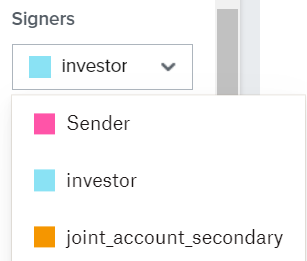 Selecting the Specific radio button provides that all of the profile types will be available and required as signer types: (including Individual, Entity, IRA, Trust, and both Joint Account Primary and Secondary).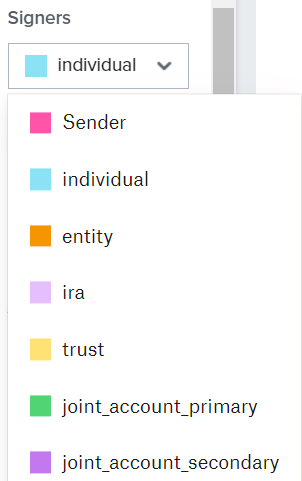 Notes
A "Signer Type" column has been added to the eSignature Templates table so you can easily see which Signer Type a template uses.



In Edit Classes, the Signer Type will be displayed in brackets when selecting a template to assign to a class. The same class cannot use templates with both the General and Specific Signer Types.

Please click here for more information on coding your document.