Investor Portal Configuration
The IMS Investor Portal allows your investors to monitor their investments and invest in new opportunities. The portal is highly customizable and designed for the Sponsor to have full control over the branding and information shared on the portal. We recommend you follow the steps below to set up your portal before you launch to investors.
First Look
Begin by watching this

Investor Dashboard Tour

to see an overview of the Portal, and get an idea of things you may wish to customize.
Log into your IMS Admin account and see the default settings and branding that have been configured for you. Watch

this

tutorial on how to update your theming and branding.

Masquerade (Login as)

an investor to see these settings adjust in real-time.
Designing and Configuring Your Portal
Access the Investor Settings section of IMS by clicking on your name in the top right corner, then Investor Settings.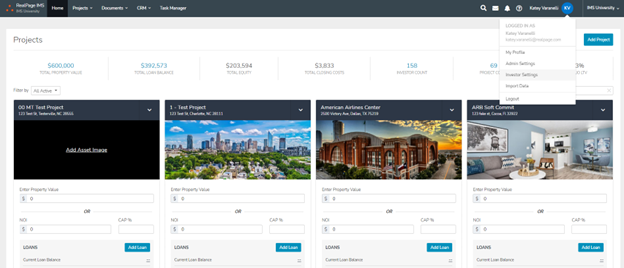 You will see several tabs on the left side of the screen. Click on the titles below for tutorials specific to each section. A more detailed Investor Settings tour can be found here.
General Settings: Turn on/off sections of the portal and rename category header names.

Investment Metrics:

Review available metrics, calculations, and the default naming conventions. Rename any metrics if you wish.

Offering Preferences:

Choose which metrics from the Investment Metrics page to show under which Investment Status. Select up to 6 metrics for the project's tile on the investor dashboard (left side). Select more metrics to show on the full Investment Details page (right side).
You may find these additional resources useful as you complete this step:
Portal Notifications:

Automated messages from the platform that are customizable. Review and edit templates that you may use.

Project Preferences:

review the default Project Status naming conventions and choose to overwrite to better match your firm's operating language. (Example >> instead of 'Investing' status choose to say 'Funding' or customize your own.)

Investor Portal Design:

set up your portal's theming and design and customize the landing login page.
Once you have reviewed each of these tabs, preview your portal by masquerading as an investor. Make any adjustments as needed until you are satisfied with the configuration of your Investor Settings.
Updating and Modifying Project Information
Begin by reviewing this tutorial and follow the steps below to add details on your projects that were loaded into the system during Implementation.
Below are some options that you will encounter on the Edit Classes screen within your projects that add information to the Investment Details screen on the Investor Portal. Click here for a more detailed overview of how to Add and Edit Classes.
Choose to show/hide the Invest Today button (only for projects currently accepting investments and using our e-Signature features).
Customize the Investment Tile (what your investors will see on the Dashboard)

Choose to write a Custom Title for the project (by default it will be Project Name, Entity name)
Add custom text (shows under the header name) or banners (shows under the picture)
Toggle on the Promotion Section to display the funding percentage graph (for open investments) or a header and text.

Customize Investment Page Content (what your investors will see on the Investment Details Page)

Toggle on a Header Background Image (it will be the first in your gallery)
Choose to write a custom title and paragraph of text if desired
Toggle on or off the Photo Gallery (photos are added on the Asset tab)
Configure desired Asset details, metrics and add asset-related text
Choose to display a pinned map location
Select Next, then Save. Preview your updates by masquerading as an investor. As you make adjustments, select refresh on your Investor Portal browser tab to see these changes update on the portal in real-time.
Repeat the steps above within any entity/project of your choosing.
Note - Projects with multiple entities must be customized within the Edit Classes page in each entity, even if the information is the same.
Final Quality Check
Perform a final masquerade of your Investor Portal, review each project, and make any adjustments if needed.
Familiarize yourself with the

Investor Support

articles located in the Help Center. These can be used internally by your Investor Relations team or shared externally with investors as you see fit.
Congratulations! Your portal has been configured and you are ready to launch to your investors. Proceed to the Launch Checklist for a list of next steps.