Wire Transfer Data Export
Overview
IMS allows Admin Team members with Sensitive Data Access to export wire transfer data from within a project or entity-level distribution batch.
Step-By-Step:
1. Navigate to the desired project. Select the desired entity from the Project Summary drop-down. Select the Distributions tab: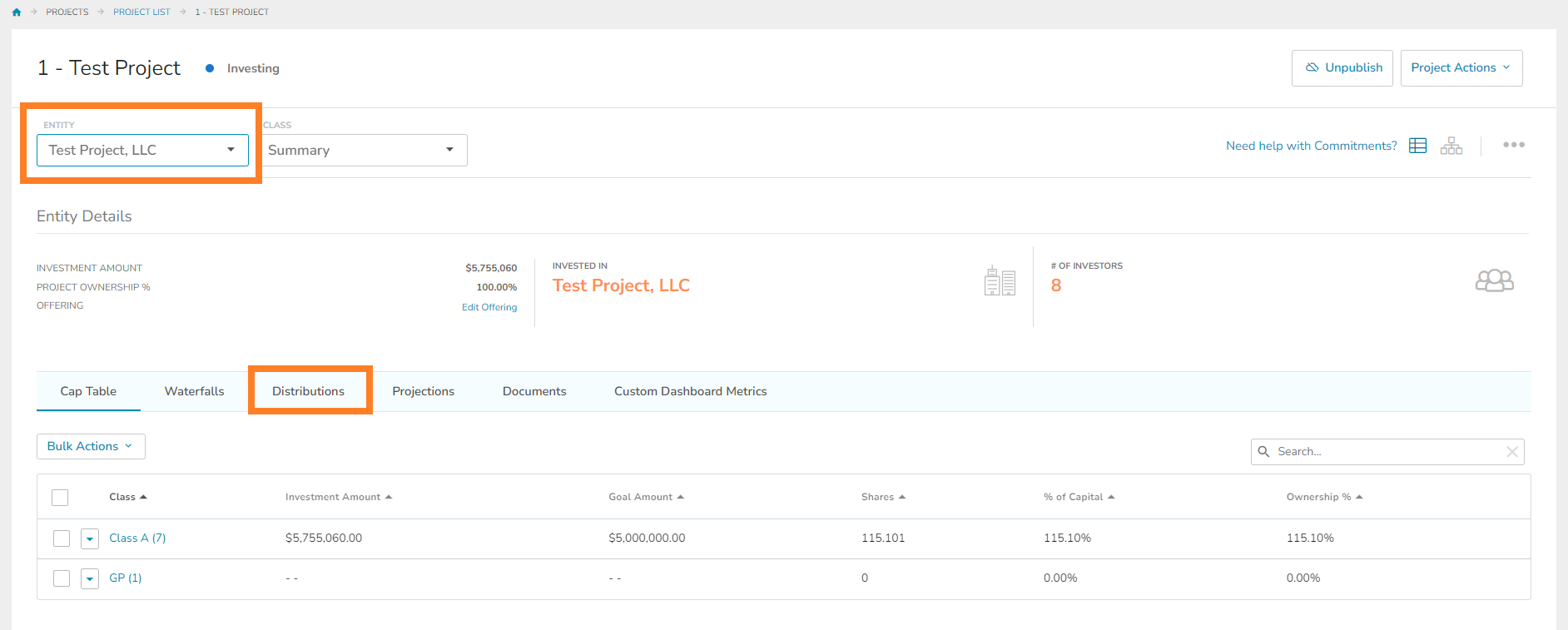 2. Select the distribution batch you would like to run the Wire Transfer Report from. Select the Export drop-down from within the distribution batch, and select Export Wire Transfer Report at the bottom: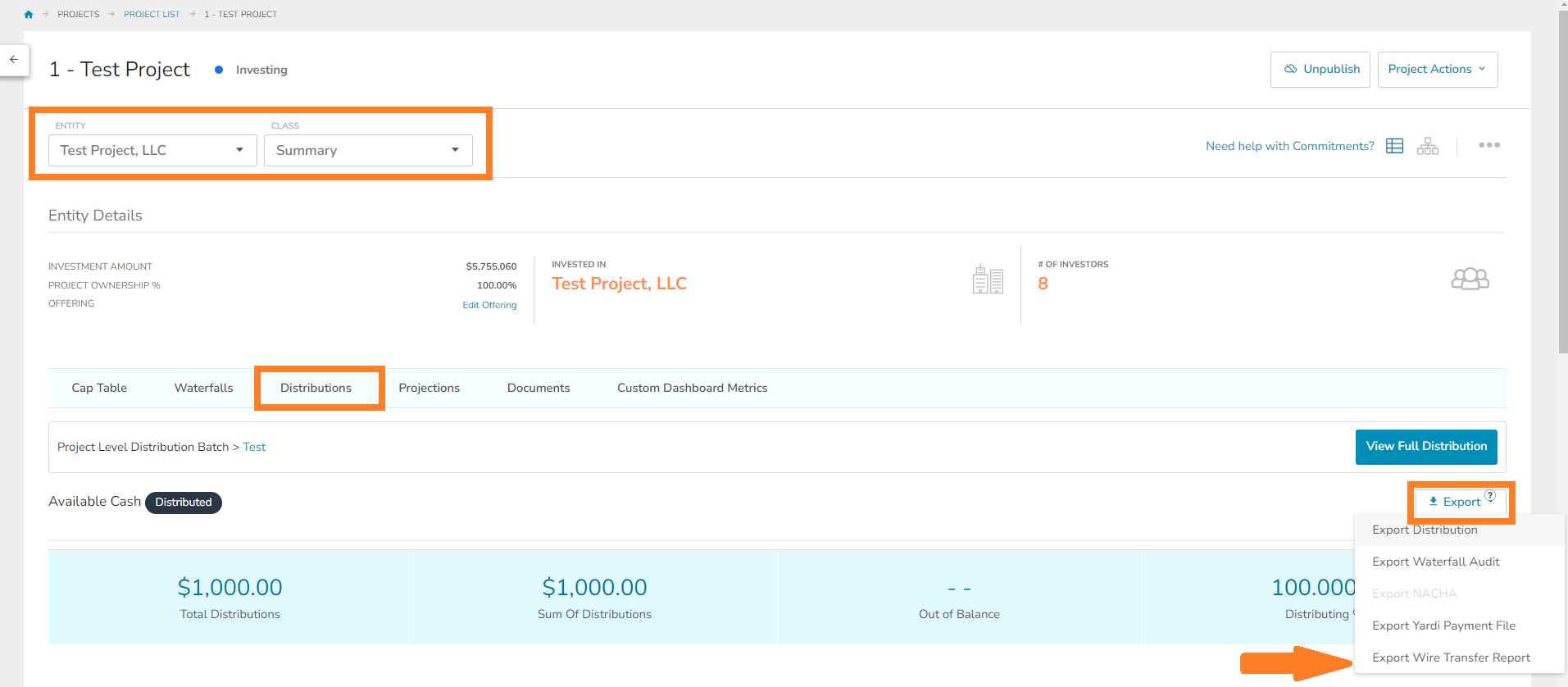 To export this report from the Project Summary level, select the Distributions tab from the Project Summary and select Export from within the project distribution: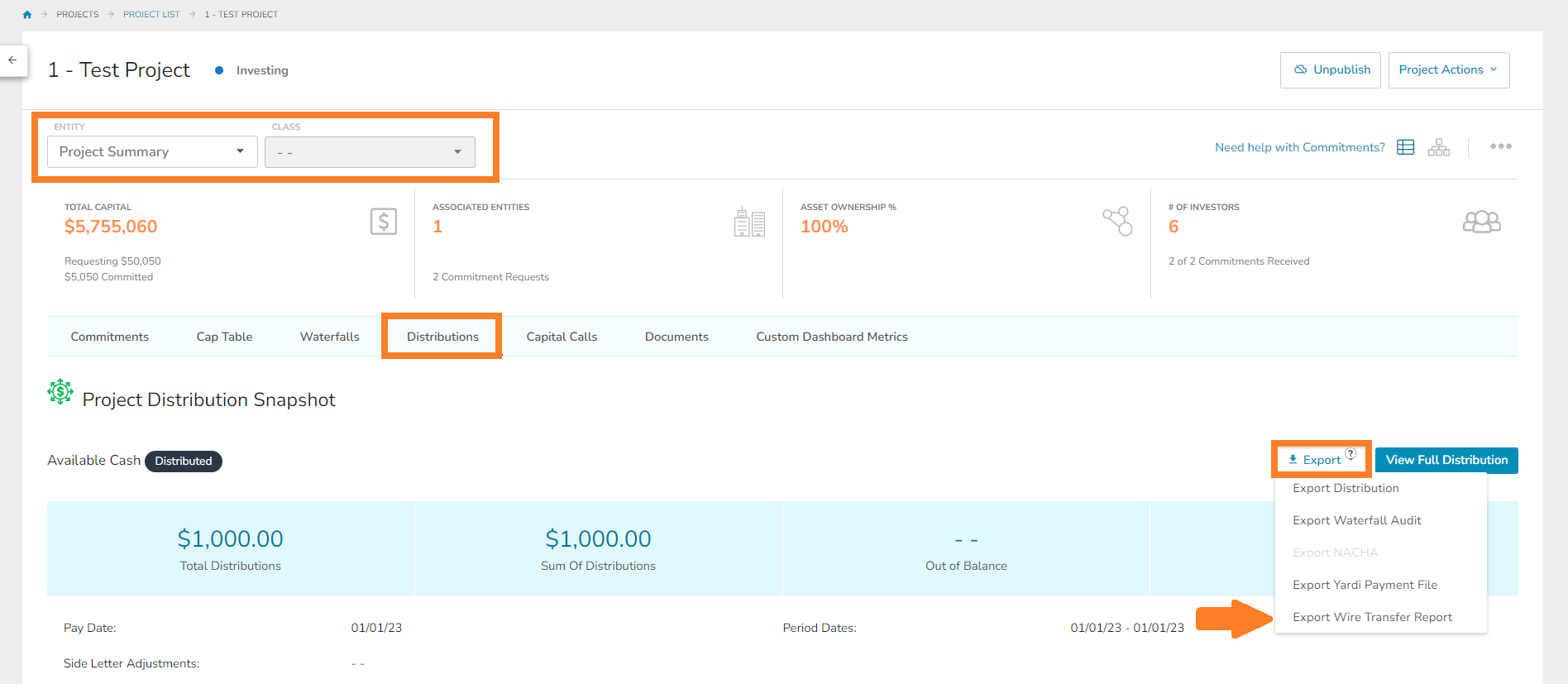 *Note: this option will be unavailable if you do not have a project-level waterfall configured for the project.
Important Notes:
The report will only display as available for distribution batches with 'Wire Transfer' selected as the payment option for at least one investor
The Admin must have SDA (Sensitive Data Access) enabled for their Team Member profile
The report will include the following information:

"Investor Name"
"Total Distribution Amount" for the current batch
"Distribution Start Date" for the current batch
"Distribution End Date" for the current batch
"Distribution Send Date" for the current batch
"Investor Bank Name" for the investment/investor
account_type as "Investor Account Type" for the investment/investor
bank_type as "Investor Bank Type" for the investment/investor
"Investor Account Number" for the investment/investor
"Investor ABA Number" for the investment/investor
"Investor Payment Reference" for the investment/investor
"Investor For Further Credit to" for the investment/investor
"Investor Bank Address" for the investment/investor
"Investor Bank Address City" for the investment/investor
"Investor Bank Address State" for the investment/investor
"Investor Bank Address Zip Code" for the investment/investor
"Investor Bank Address Country" for the investment/investor