What are eSignatures?
IMS gives Sponsors the ability to securely send subscription and offering documents to investors through our eSignature feature. When investing in a new deal, eSignature documents allow investors and countersigners to sign documents online, from anywhere, or any device. With eSignatures, you do not need to print the document, fill it out, scan it and email/fax it back. You can do that whole process on your computer, tablet, or phone, without any paper.
How does it work?
First, Sponsors will begin by creating an eSignature Template for their offering documents. Next, you can customize the template by dragging and dropping signature fields that need to be captured on the document. Finally, apply the completed eSignature template to an offering which will prompt investors to eSign the document when an investor makes an offering through the Investor Dashboard or through Invite to Invest.
Do I have to create an eSignature template for each type of CRM profile?
No, you only need to create one template per offering document. When creating an eSignature Template, admins can drag and drop signature fields that will only display to a signer associated with that specific field. For example, dragging an 'individual' signature field box onto a document means that signature will only be displayed and collected by individual investors signing the document. If an 'entity', 'trust', etc. signature field is placed onto a document, that field will only be displayed and collected when an Entity or Trust is signing the document. When an Entity goes to sign the document, they will not see the Individual or Trust signature fields.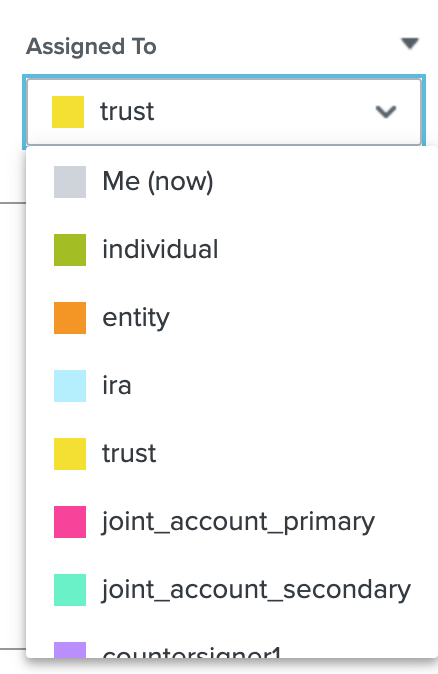 Will the document be customized for each signer?
Yes, eSignature Templates can include Textbox fields from the 'sender' which integrates from the CRM. The purple 'sender' textbox field will automatically populate specific information onto the document with information pulled directly out of IMS when the document is delivered to the signer. This allows the document to be customized for each signer and prevents the signer from filling in these fields themselves.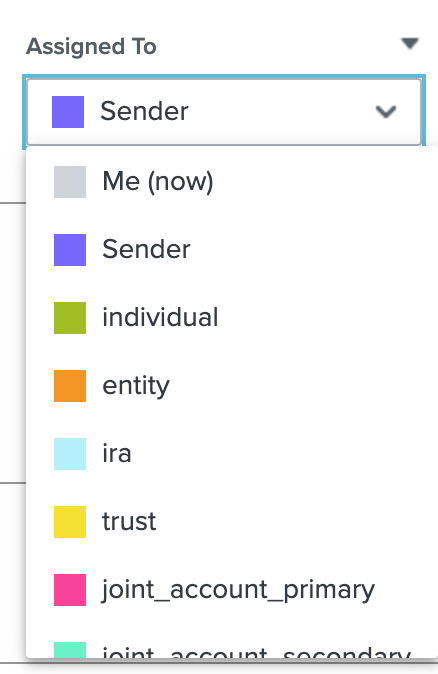 For example, you may want to autopopulate the Investment Amount or a Legal Name on a document without needing the signer to manually fill this out, but you'd still like to collect a signature from the Entity. In this scenario, you will use a textbox field and place a purple 'sender' assignment on the Investment Amount and Legal Name field and the orange 'entity' assignment on the signature field. When an Entity goes to sign the document, the Investment Amount and Legal Name will already be displayed on the document, and they will only need to click to sign on the signature line.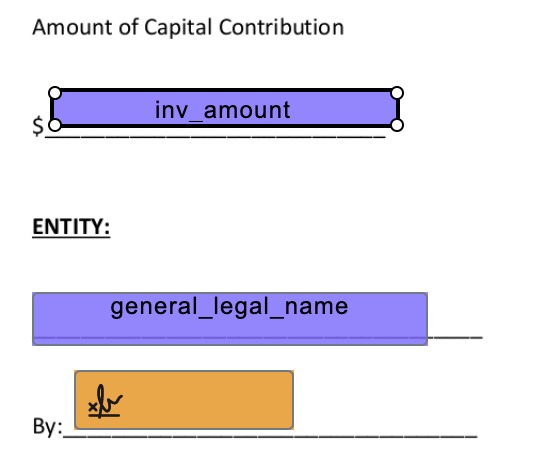 Do I need to use this if I want to raise capital through IMS?
When raising capital through IMS, eSignatures create a seamless investor experience by prompting the investor to sign offering documents at the time of the capital commitment. This automated process provides the investor a 'self-service approach' to the offering experience, freeing hours of time for Sponsors who no longer have to collect signatures on offering documents.
Best Practices
Please be aware when creating an eSignature Template, the system will time out due to inactivity. If you plan to work on the document over several hours or days, we recommend saving your work as you go by clicking 'continue' in the top right hand corner. If the template was not saved prior to being timed out, you will lose the work put into the template.

IMS recommends waiting until the subscription documents are finalized by your firm before you begin coding your document. Once you upload a document into a template, the document text cannot be edited nor can pages of the document deleted or replace